Category Archives:
Sex Dolls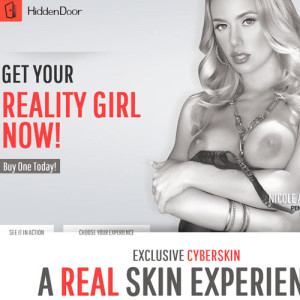 IntroHidden Door is a reality sex toy that you're going to definitely want to get your hands on if you're looking for the ultimate reality experience! If you're sick of jerking off to porn and tired of escorts, maybe you're going to want to make a one time investment into Hidden Door! Hidden Door provides users with sex dolls that look absolutely realistic and highly entertaining. Read more about the cyberskin molds for sale below and find out how you can purchase these real dolls!
ProsThe site Hidden Door brings you a very appealing tour that shows you just how hot and sexy these real dolls are. They're called cyberskin dolls and they really do replicate women like Jenna Rose, just in mold form.
The sex dolls at Hidden Door come to you with realistic features that will definitely turn you on. A fuckable mouth, fuckable ass and fuckable pussy will allow you to fuck your cyberskin reality girl in more ways than one. These girls are equipped with realistic features on their bodies too, so their tits feel real, their pussy feels real and their asses are tight!
You have your choice between three girls right now to make your mold out of. Jenna Rose, Marica Hase and Nicole Aniston are the hotties you can purchase cyberskin sex dolls of.
These sex dolls warm up to human temperatures and include a vibrating feature that allows you to increase the intensity of your fuck sessions too! You're going to probably blast your load in no time fucking any of these cyberskin dolls from Hidden Door.
Think about how nice and hot it would be to have a "fuck doll" with realistic features at your complete disposal! These sex dolls will be the most fun you've had in a long time. The best part is, you don't have to buy them dinner and they never get their period, nor a headache!
Cons
These sex dolls are a little pricey, however they seem like a great investment for someone who wants a hot chick they can fuck on command, inspired by molds of their favorite pornstars.
Conclusion
If you check out Hidden Door yourself, you can browse their cyberskin sex doll products and find the girl that meets your needs! Watch the introduction video and see just what makes a sex doll from their company worth the money. With three functioning fuck holes and realistic body parts inspired from real molds of girls like Jenna Rose, Marica Hase and Nicole Aniston, you're going to have a heck of a time banging them! Our Hidden Door review / cyberskin review was very positive. I think if you're looking to purchase a sex doll, you should consider buying from Hidden Door. Buy Your Sex Doll Now By Clicking Here!